On the Necessity of Government (according to Madison)
If men were angels, no government would be necessary.
— James Madison (1751-1836)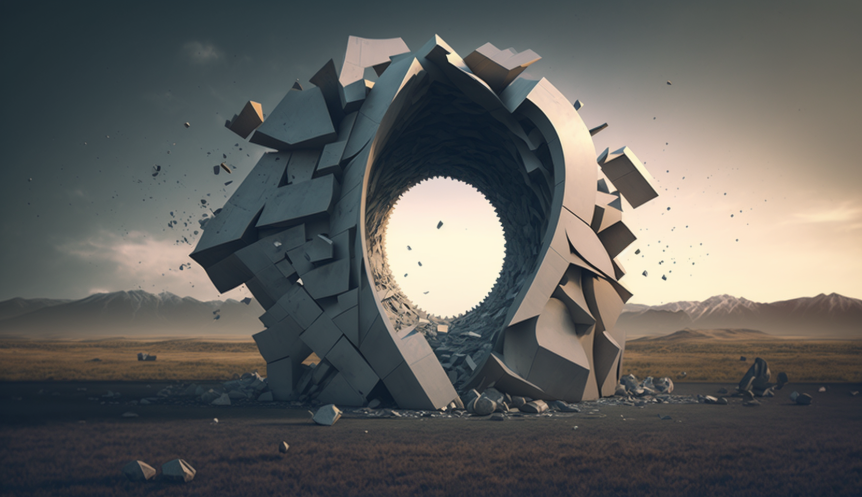 Angel with a Broken Möbius, History Repeats Itself in Uniquely Different Ways
On the Necessity of Government (according to Madison)
If men were angels, no government would be necessary.
— James Madison (1751-1836)
The titled responsion compares the möbius to the halo, broken yet still high functioning.  If that is true, how can we claim that history repeats itself?
Imagine a world where men are not just angels but broken angels. What if they are beings that have lost their perfection, balance, and harmony?
Enter the angel with a broken möbius. This peculiar creature, with one wing shorter than the other, symbolizes humanity's imperfection. It represents that we are not perfect beings and are flawed and prone to mistakes. But at the same time, it also embodies the infinite potential of humanity, the ability to learn from our mistakes and grow.
Now, what does this have to do with the need for government? Well, history has shown us that even in the most perfect of societies, there is still a need for some form of governance. Whether it is to protect the weak from the strong, to prevent the exploitation of resources, or to ensure that justice is served, the need for government is essential.
But why is this so? Why can't we rely on the goodness of people to govern themselves? The answer lies in the brokenness of humanity. We are not angels; even if we were, we are not all equally perfect. Some of us may be more prone to selfishness, greed, or violence than others. And without some form of regulation, these vices can take over and lead to chaos and destruction.
We can learn from the mistakes of the past and create systems of governance that reflect the changing needs of society. We can strive to create a world where the inherent goodness of humanity is nurtured and celebrated while acknowledging and addressing our flaws.
Ultimately, the need for government is not a sign of weakness or an admission of our imperfection. It is a recognition of the complexity of human nature and the need for balance and harmony. The angel and the fallen möbius remind us that we are all in this together and that it is only through cooperation and mutual respect that we can create a better future for ourselves and future generations.
---
The planksip writer's cooperative sponsors an ongoing re-writing of this article (500 words) with $500 in prize money for the best article as voted by your peers in the planksip writer's cooperative. Judged by your peers, your chance to join a community of creative thinkers and win over $750,000 in prize money is your entry point into becoming a planksip journalist.
We want to change the way people engage. The planksip organic platform supports your writer and thought leader's voice. Join today. Membership matters!