...Europe awaits you
In the deep dark night, you can see the silhouettes of the mountainous Alps,
From your small wooden bench in the pub, you can see beyond your reflection,
The candles flicker in a draft, the barkeep is towel-drying mugs,
You pass your hand over the pane of the window and squint beyond the cowering streetlights, looming about are the voices of the Alpine, the folding cirques, and perilous peaks...
You are in Austria
Sitting on ruins that once stood eternal, you inhale the magic of the philosophers,
The slab beside you was once a podium and the columns bound the listeners
Plato, Socrates, Hippocrates, Pythagoras, Archimedes... their ghosts are about,
whispering, prodding, enveloping, conveying something you never knew existed...
You are in Greece
Old buildings anchored to the paths that side the canal. Shadows slip into alleys and pink windows catch the crescent moon. Cobblestone paths lead under wrought-iron signs and foggy restaurants are alive with people and music. Sleek gondolas wade amongst the tides of vaporettos... history stands around you like never in your wildest dreams...the Adriatic stretches before you and bows into Africa and Arabia...
You are in Venice
In a blaze of trumpets, a procession begins. In the sooty air, thrusting onion domes haze. You are standing in a shallow sandy doorway watching a funeral... unfamiliar faces wish you weren't there but you are, just there... watching, interpreting, assuming then more watching. Turbans, swords, tears, shawls, and indigenous rituals, are older than anything you've ever seen
You are in Turkey
In the midst of a collapsed cathedral... the roof has been gone for 2000 years.
The construction of the Empire was designed to survive forever but it crashed
in four hundred AD and thus ended the Roman grip that stretched into Northern Europe. Caesar, Olympus, Nero, and Augustus, are people who shaped our language and thoughts.
You are in Italy
Over a glass of Chablis, in a park in a private vineyard, grapes hang about, crystalizing the sunlight,
Fresh dew suspends from every leaf and greens are spread in a series of shades you've never seen before.
Spires from a church in the village ripple in the noonday sun and a local dialect fills your ears with a precious memory of all the sheltered hillside has to offer...
You are in France
Old men pull children in sleighs, the trees are laced with powdered snow, trams pull by the window...
Arcing doorways, red-brick buildings, thatched roofs and sturdy old babushkas. Churchbells sing in the early glow of sunrise, snow all about
A new country emerges from a collapsed ideology, and you get to see behind the curtain of time...
You are in Russia
On a sandy jetty of land, you watch as a fishing boat dumps its load onto the shore, flipping into the sand are fresh-caught rhiba and two sharks, a deckhand slits the bellies of the sharks and pours the contents into a pail for bait... a breeze echoes through the trees as you scrunch the beach between your toes...
You are in Portugal
Coiling streets wind through the Old Town and spread below into the apartment blocks of the suburbs. On the bank of the Vltava, against the unrivaled backdrop of Castle and the Lesser Town, you wander placidly amongst the pedestrians, the mimes, jugglers, and musicians. Cloud coverslips up the riverway and mists the other low bridges in the last light of day...
You are in Prague
Tanned edifications stalk around the narrow roads and the boulevards seldom see the spring shadow. Autos huff and puff as eighteen lanes round the Arc de Triomphe and take one of the fourteen spokes out of town. The Louvre, Notre Dame, the pinnacle of the Eiffel Tower, its iron splendor poking over the smoky rooftops...
You are in Paris
A twenty-four-hour clock signals the arrival of a train from Romania, the simplicity in the departures board flips down a new destination...
butchered languages, timetables, drafty corridors, and waiting benches. Hissing steam, whistles, engineers, track changes, new words, passing friends, grammar, counting to ten in any foreign tongue, windmills, Spinoza, glasnost, Anne Frank, Michelangelo, Czars, Marco Polo, Putin, Charles de Gaulle, perestroika,
Rasputin, Stonehenge, Berlin Wall, francs, Swiss cheese, Pamplona bulls, Pisa, reindeer, Gothic, Koln, Firenze, Dostoevsky, Mussolini, Big Ben, fresh French bread, horse carriages, Lenin, Churchill, Tony Blair, Yuri Gagarin, Mozart, Stalingrad, Budapest, Lisbon, Red Square,
Peugeots, autobahn, Marie Curie, Kiev, Pyrenees, Coliseum, Parthenon, theatres, Oxford, Prague, biere, Cannes, Copernicus, Danube, the Vatican, Ivan the Terrible, Loch Ness, Bach, borscht, Corsica, Madrid, statues, wide gauge, Thames, St. Basil's, espresso, Piva, Gdansk,
Kaliningrad, Chunnel, TGV, drawbridges, platforms, metro, flying buttresses, wandering, operettas, passports, Cambridge, Seine, Black Forest, Monaco, Queen E., Luxembourg, fjords, visas, cigars, Philharmonic, maps, politics, frontiers, providnitsas, wrong stops,
overhead luggage racks, babushkas, kegs, Opals, Edinburgh,
Parc du Mars, goulash, Barcelona, reading lights,
postcards, roubles, free time, groggy wakeups,
experience, Hercules, Catholicism, taiga,
militsia, kilts, kiosks, royalty, customs,
stamps, amphitheaters,  monuments,
Zeus, Houses of Parliament,
wild boars, castles, Titans,
Guinness, Artic circle,
post offices, alternatives,
lonely country roads, chicanes,
spring temperatures, Stalin, getting lost,
atlases, choices, fields of mustard, pollution,
Sicily, marks, Palermo, Brugge, mocts, traditional costumes,
tundra, the Highlands, coasts, pictures in clouds, escargot,
cabooses, berets, bathrooms-down-the-hall, Unknown Soldier, icons,
fragrances, zlotys, economy, wildlife, strudel, buses, transfers, Siberia, trams,
Helmut Kole, silent passages, drachmas, stairways, tour de force, dark hills,
Matterhorn, tunnels, Nicholas, sleeping bags, time zones, capitals, villages, coups, chapels,
Jacques Chirac, Euros, Heathrow, presse, The Times, Lockerbie, Euro Disney, cockpits, electrichka, Ladas, cabins, corridors, Tambor, escaliers, Deutschmarks, Knossos, shadowy flickers of daybreak, lamp posts, silence, dachas, liras,
Beethoven, football, shillings, romance, exhaust, Atlantic currents, midi, Gares, industry, diary, journals, flags, colors, backpacks, headphones, Tupolevs, crossing arms, decking, shade, wheatfields, grimy windows, first-class, guilders,
smoldering ashtrays, Gittanes, hanging baskets, creme, bicycle bells, concrete, docksides, airfields, gas pipes, switchbacks, Neige, coal, railcars, ski lifts, desperados, Tuscany, Versailles, ex-pats, abroad, a la mode, fonts, Centre de Defense, Lufthansa, cargo, escapism, products, advertising, homesickness,
Baltikya, pretzels, boulangeries, imports, Bolivar, caviar, conquistadors, accents, dialects, Bolshoi Teatr, hidden splendors, folding maps, dinars, crowns.
I could go on but why...Europe awaits you
---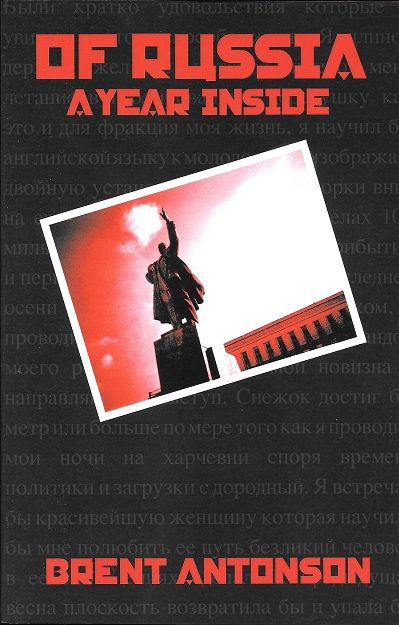 OF RUSSIA: A Year Inside
Brent (Brant is the Russian version) Antonson has seen a Russia few foreigners have. Indeed, few Russians. This young Canadian ventured to Voronezh, eleven hours south of Moscow by train, to spend a year inside a country torn by strife, fresh into a new century, and struggling with the clash between history and future. Tasked with teaching English to students at one university, and then a second, his story is riddled with romance and deception, and punctuated with near disaster and disappointment. Antonson's candour and insights set Russia on the edge of failure and achievement – much like the students he educated, filled with a dash of hope and a lump of fear. His wit did as much to get him in trouble as it did to keep him out of it.
Purchase on Amazon